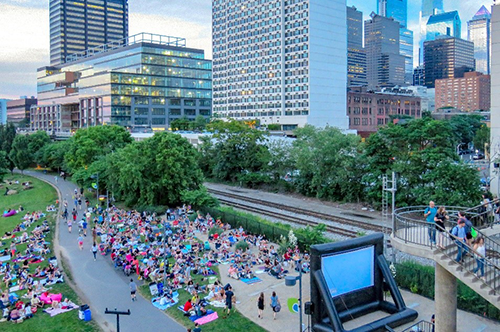 Summer! It's the time for sunny days, ice cream, music festivals and fun-filled movie nights!  And because Team Spark is always up for some fun and likes to support a good cause, Spark is, once again, sponsoring the Schuylkill Banks Movie Nights.
As proud West Philadelphia citizens, we're thrilled that our sponsorship of this event provides continued support of the Schuylkill River Development Corporation (SDRC). The SRDC is a local non-profit that focuses its efforts on the revitalization of the Schuylkill River Corridor, spanning from the Fairmount Dam to the Delaware River.
"As the leading gene therapy company founded six years ago right here in Philadelphia, Spark Therapeutics is proud to give back to the local community by sponsoring another edition of the Schuylkill Banks Movie Series," said Jeffrey D. Marrazzo, chief executive officer, Spark Therapeutics. "Outdoor movie nights offer a novel way to bring the hard-working Philadelphia community together around a leisurely activity."
The movies will be featured on large screens set up along the Schuylkill Banks. Different movies will be featured on Thursday nights throughout the summer at both the Walnut Street Bridge as well as the Grays Ferry Crescent by Wharton Street. The movies begin at dusk and are open and free to the public.
Bring your family and friends and arrive early to grab a good spot before the show begins!
For more information about the Schuylkill River Development Corporation, please visit: https://www.schuylkillbanks.org/
Movie Nights at Walnut Street:
June 13: Romancing the Stone
June 27: Fantastic Mr. Fox
July 25: Sing
August 8: Crazy Rich Asians
August 22: A League of Their Own
Movie Nights at Grays Ferry Crescent:
June 20: The Karate Kid (1984 version)
July 18: Robin Hood (Disney 1973 version)
August 1: Green Book
August 15: Captain Marvel