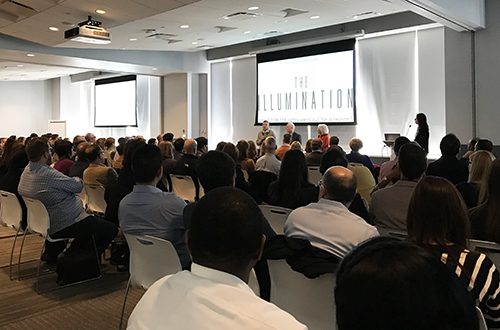 Celebrating Foundation Fighting Blindness' Work in the Community and The Illumination
In November 2017, Spark Therapeutics welcomed the Foundation Fighting Blindness (FFB) to host an exclusive screening of The Illumination, a powerful documentary chronicling the origin of the FFB, its founders and its quest to help create a new field in vision science, one that is seeking to deliver on the real promise of restored vision. The Illumination is a joint project of The Nantucket Project and the FFB. The documentary has been shown at film festivals across the country and has earned festival honors at numerous events.
Spark employees and special FFB guests from around the world were able to view the screening and interact with the film's creators. The inspirational event featured a version of the film with audio narration to simulate the experience of a visually impaired audience. Among other invited guests from the FFB, Gordon Gund and his wife Lulie, founders of FFB, along with Tom Scott, the film's director, spoke on an interactive panel following the screening.