The international recognition of Rare Disease Day is a much-anticipated moment each year at Spark Therapeutics when employees gather to learn, engage, and be inspired by the patients and families who drive our work forward. The day of recognition falls on the last day of February, enabling Spark to host an energizing, week-long event centered on raising awareness for Spark employees of the universal rare disease experience.
This year, the global nature of the rare disease community served as inspiration with two of the community's leading advocates joining Spark through a unique virtual event.
Avril Daly, CEO Retina International and Vice-President EURORDIS and Durhane Wong-Rieger, Ph.D., Chair of Rare Disease International and CEO of the Canadian Organization for Rare Disorders, joined from their respective locations in London and Toronto, alongside Spark's Greg Robertson and Jamie Ring of Spark's Patient Advocacy Team. The leaders hosted an interactive discussion with Spark employees, touching on issues such as how internet and modern communications have changed the patient organization landscape; the biggest challenges facing the rare disease community today; and how their specific international collaborations and policy efforts are making an impact.
"[W]orking together is critical, especially in an area that's so dynamic and changing all the time. We're all learning together because it hasn't been done before," said Avril Daly during her virtual session with all employees. Dr. Wong-Rieger emphasized the potential impact of the global community's collaborative efforts: "[The global community] is leading a revolution now that I think is going to transform patients' lives — not just patients with rare disease– but all patients," she said.
Earlier in the week, at a Rare Disease Week-themed all-employee meeting, Team Spark showed up in style wearing stripes and channeling their inner zebra—the official symbol of rare diseases in the U.S. Team Spark's "dazzle" of zebras struck a pose for National Organization of Rare Disorder's (NORD) #ShowYourStripes social media campaign.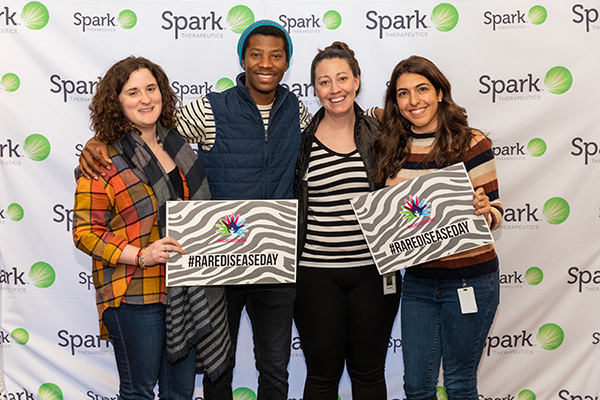 Finally, employees and followers of Spark's Twitter account were invited to test their global rare disease knowledge through interactive trivia with a global twist. For example, did you know that approximately 30 million European Union citizens are affected by rare diseases? Or that an estimated 1.125 million people have hemophilia worldwide? With the opportunity to exchange knowledge and commit to collaborate on a range of curated questions, Team Spark walked away with a deeper understanding of the latest facts and figures on the state of global rare diseases.
As always, Spark's annual Rare Disease Week celebration energized Team Spark and served as a prime opportunity to honor and champion the patients and families who serve as our inspiration as we work to create a world where no life is limited by genetic disease.